Hailey Baldwin Plastic Surgery
Who is Hailey Baldwin?
Hailey Baldwin (Bieber), known as a model, Cover Girl, presenter, and a music video model, was born in Tucson, Arizona, the USA in 1996. The daughter of US actress, director, producer, and writer Stephen Baldwin and graphic designer Kennya Baldwin. Hailey was homeschooled as a child and received classical ballet training.
The subject of "Hailey Baldwin plastic surgery" has come up many times, as she has been in the limelight since childhood.
That's why people have a perception that they have plastic surgery. And almost all women today wonder what aesthetic procedures are included in the Hailey Baldwin plastic surgery.
The model, who took the podium for famous brands such as Ralph Lauren, Tommy Hilfiger, and Philipp Plein, was also on the cover of Glamour, Marie Claire. She also appeared in the music videos of popular names such as Cody Simpson and Baptiste Giabiconi.
Stephen Baldwin, the father of Hailey, which came to the fore after she engaged with Justin Bieber, also confirmed the event by writing a message congratulating his daughter Hailey and Justin Bieber on his social media account.
Hailey Baldwin, who became more famous after marrying Justin Bieber, also uses Bieber's surname. Due to her increasing reputation, she has given interviews more frequently in recent years. The subject of these interviews is usually about her marriage to Bieber and Hailey Baldwin plastic surgery.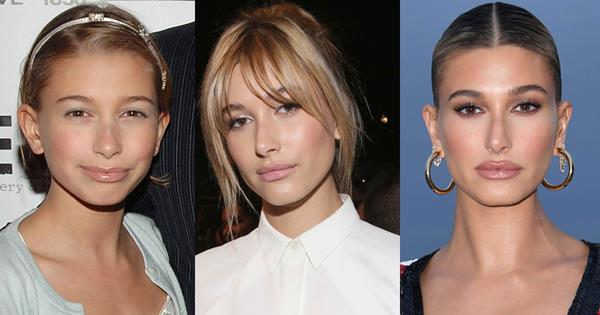 Hailey Baldwin Denies Her Aesthetic Claims
Famous model Hailey Baldwin, despite all the aesthetic analysis of the experts, denied the allegations and said, "I have never touched my face." However, there are still many people who do not believe this. Let's take a look at what the experts have to say about Hailey Baldwin plastic surgery to better understand this issue.
The aesthetic experts who made the allegations, Dr. Darren Smith, Dr. Anthony Youn, and Dr. Adam Schaffner claimed that the 25-year-old model had undergone plastic surgery many times. These opinions of the experts greatly disturbed the Baldwin-Bieber couple and made them consider filing a lawsuit. Judging by the latest news, the Hailey Baldwin plastic surgery case will continue to be on the agenda for a while.
Hailey Baldwin Plastic Surgery: Liposuction
Working in New York, Dr. Darren Smith claimed that Baldwin had an intervention in his cheek and jawbone, "The fact that the chin has become so noticeable may also be due to weight loss. But it is possible to achieve this image by performing liposuction around the chin. Or, with the fillers injected on the chin, the person can look like this."
Well, what is Liposuction that comes to mind when Hailey Baldwin plastic surgery is mentioned?
Liposuction, or lipo, which is the first operation that comes to mind when Hailey Bieber plastic surgery is mentioned, is a type of fat removal procedure used in plastic surgery. Based on the results of the surgeries performed, it was observed that after a few months it did not support an effect on weight and did not affect obesity-related problems.
Process; It is performed under general or local anesthesia. A cannula and negative pressure are used to absorb the oil. As a cosmetic procedure; It is believed to give good results in people who are normal, overweight, or have good skin elasticity.
In Milano Klinik Turkey, liposuction is frequently performed by experienced doctors. For more detailed information about liposuction, you can send a message to the Milano Klinik WhatsApp line.
Hailey Baldwin Plastic Surgery: Lip Filling
The second thing that comes to mind when Hailey Baldwin plastic surgery is mentioned is Lip Filling. Plastic surgeon Dr. Anthony Youn said, "It looks like she also injected fillers in her lips, making them thicker.
Lip augmentation, which comes to mind when Hailey Baldwin plastic surgery is mentioned, is a type of plastic surgery. There are also types of lip lift, labial frenectomy, and lip reconstruction.