The 5 Most Popular Types of Plastic Surgery For Men
With the increasing population in the world and the effect of social media, the interest in aesthetics is increasing day by day. Contrary to the general opinion, men need aesthetic procedures at least as much as women.
Today, plastic surgery has become more popular for men due to the increasing aesthetic needs of men. In this article, we told you the 5 most popular types of plastic surgery for men.
Plastic surgery isn't just for women. Increasingly, the number of men who want to be aesthetic is increasing. For this reason, plastic surgery for men is a new category.
According to research by the American Society of Aesthetic Plastic Surgery, more men need plastic surgery for men, with an overall increase of 43 percent in many surgical or non-surgical procedures in the last 5 years.
The American Society of Aesthetic Surgery began collecting statistical data in 1997. Since the beginning of the studies, there has been a 273 percent increase in the number of plastic surgery for men performed.
The increase in the variety of aesthetic operations also contributed to the increase in the number of male patients. Many plastic surgeons interpret that the competitive job market is leading many men to have aesthetic procedures, with more of the category of plastic surgery for men.
Whether the goal is to look younger, or more handsome, The 5 Most Popular Types of Plastic Surgery For Men include: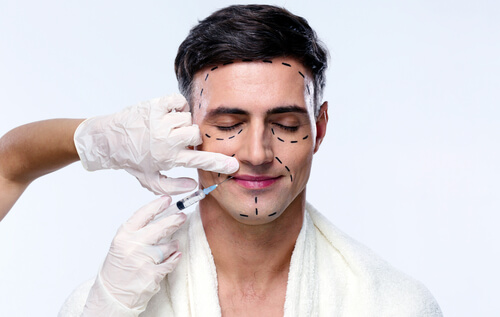 1. Blepharoplasty
We have a saying in Turkey, "The eyes are the mirror of the heart. ". But on the other hand, drooping eyelids, wrinkles under the eyes, and dark circles under the eyes are unfortunately some of the signs of aging.
This is not just for men or just for women. Unfortunately, all people will experience this until the elixir of aging is found.
This type of aesthetics is part of plastic surgery for men, as this happens to men as well as women. These signs of aging are often confused with signs of fatigue. And it causes unwanted comments about how tired or sick a person looks.
For this reason, many people apply to cover their eyes with make-up, but blepharoplasty is a permanent solution. It is also very popular because it is an easy operation.
The most popular operation in plastic surgery for men is blepharoplasty. This operation is also a solution to vision problems caused by the drooping of the eyelids as you age. In this respect, it is a very important operation for your health.
Blepharoplasty aims to give the eyes a youthful appearance by lifting the upper and lower eyelids. Young eyes have a very positive effect on how men appear in both business and social life. For this reason, we can say that in the category of plastic surgery for men.
2. Gynecomastia
Breast reduction surgery is not just an operation for women. Many men of all ages are embarrassed by the excess skin and fat on their chest. This is because large breasts are not considered natural for men.
Gynecomastia done to get rid of this situation is plastic surgery for men. Gynecomastia surgery helps to achieve a more masculine appearance by reducing the breast size and improving the chest contours. Especially women find this image more attractive.
In gynecomastia surgery, liposuction surgery is also used to remove excess fat from the breast. Plastic surgery for men is becoming more and more common nowadays. Among these surgeries, there are also options where two surgeries are performed together. For more information on this subject, you can contact the Milano Klinik WhatsApp line. You can make an appointment with your doctor to determine the most suitable option for you.
3. Neck Lift
The skin that has lost its elasticity under the neck causes an aged appearance. The skin around the neck that has lost its elasticity can be embarrassing for both men and women. However, the solution is the operation performed by experienced doctors in plastic surgery for men at the Milano Klinik in Turkey.
A sagging neck can make a man's face appear heavier or older, even if he is not overweight. You can achieve a more masculine look with a strong jawline. You can also get a more masculine look by having surgery like Jawline, which is in the category of plastic surgery for men.
Of course, you should determine the most appropriate operation for you with your doctor. Increasing numbers of men today are getting neck lift surgery as a way to combat aging and maintain a masculine jawline.
4. Rhinoplasty
The handsomeness of a man depends on the proportionality of his face as well as the aesthetics of the body. Having a large or crooked nose can negatively affect a man's appearance and even cause him to lose self-confidence.
Although we have written this article about "plastic surgery for men", this subject is also significant for women.
This operation is the most preferred aesthetic operation by all people in the world. Rhinoplasty is popular plastic surgery for men who want to change the appearance of their face for the better in a short time. Most rhinoplasty patients recover within a week after surgery and return to their daily life.
5. Jawline
Jawlines make the person look strong, and people with strong jawlines feel more masculine. Men may prefer this operation to look masculine if they have weak jawlines. Plastic surgeons can change a people's chin with implants or by repositioning the jawbone. It has been observed that much better results are obtained when this operation is performed together with liposuction.
You can read our previous article from https://www.milanoklinik.com/en/effects-of-plastic-surgery-on-mental-health/.