Kourtney Kardashian Plastic Surgery
Beauty Standards and Plastic Surgery on Celebrities
The world that we live in constantly changes over time and the trends and standards also change accordingly. Beauty standards have evolved immensely in the past ten to twenty years and the most important reason for this change is the popularization of plastic surgery and the people having these procedures. Nowadays, everyone can get plastic surgery but it is most common among celebrities. Due to this, people start to both turn to plastic surgery to get their desired body and start to question which celebrities got the surgery done.
One of the most known celebrities when it comes to plastic surgery is the Kardashian-Jenner family. Members of the family are constantly questioned if they got plastic surgery as many of them look drastically different compared to their older selves. One of the members of the family, however, especially makes people question if she had any plastic surgery and she is Kourtney Kardashian. Kourtney Kardashian plastic surgery has been a topic since the family got global popularity and her photos from the past looked slightly different.  Due to her not looking too different from her past, Kourtney Kardashian plastic surgery has become a topic people talk about.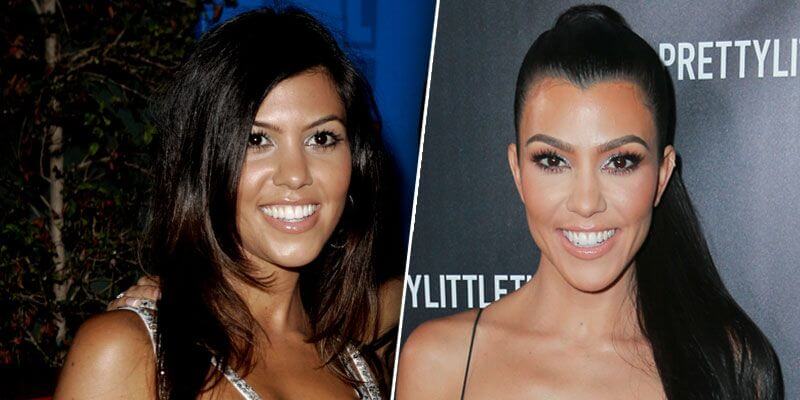 Kourtney Kardashian Plastic Surgery
Kourtney Kardashian is one of the members of the Kardashian-Jenner family, which gotpopular with their reality show called Keeping Up with The Kardashians which has been airing since 2007. She is 43 years old and is the oldest among her siblings Kim Kardashian, Khloe Kardashian, Rob Kardashian, Kendall Jenner, and Kylie Jenner. She was dating Scott Disick since 2015and the couple had three children named Mason Dash, Penelope Scotland, and Reign Aston. Kourtney
Kardashian plastic surgery had been a topic of question as she rejects she got plastic surgery other than breast augmentation, however, it is rumored that Kourtney Kardashian plastic surgery procedures include fillers, botox, and rhinoplasty in a way that looks natural.
1. Breast Augmentation
Breast augmentation is the only Kourtney Kardashian plastic surgery she openly claimed to have. Breast augmentation surgery, also known as a "boob job", involves increasing the size of your breasts with breast implants or fat gathered from liposuction to be transferred to breasts. Breast augmentation can also help to restore breast volume lost due to weight loss or pregnancy, correct natural breast size asymmetry, and achieve a more rounded breast shape.
For her breast augmentation procedure, Kourtney says she regrets her decision and if she had a chance,she would never have done it. Breast augmentation is a plastic surgery it which is important to find the correct and trustworthy clinic to get the procedure to decrease the chances of complications that can be caused by various reasons. Milano Klinik is one of the most trustworthy clinics which can give their patients the looks they wish to achieve.
2. Filler
This is a rumored Kourtney Kardashian plastic surgery as she rejected getting any procedure other than breast augmentation. The reason this procedure is rumored is that even though Kourtney Kardashian is 43 years old, she doesn't look like she is at that age. Due to this, people and plastic surgeons speculated that she is getting fillers.
Fillers are chemicals that are injected beneath the skin's surface to increase volume and fullness and are used to address various indications of aging. They may plump up thinning lips, enhance or fill in shallow areas on the face, decrease or remove the shadow or wrinkle under the eyes, and fill in or soften the look of recessed scars.
3.Botox
Botox is a chemical toxin that is injected into the face of a patient in small doses and is most commonly used to reduce the appearance of facial wrinkles.The effects are transient, lasting from three months up to a year depending on the treatment. Injections in the wrinkles between the brows, known as frown lines, glabellar lines, crow's feet, horizontal creases in the forehead, and lines at the corners of the mouth are frequently requested.
Botox is another rumored Kourtney Kardashian plastic surgery due to not having any wrinkles on her face and the ones she has are slightly visible, which is not common for a woman her age. Some plastic surgeons argue that her looks could be achieved through either a consistent skincare regime or getting facials other than an injection of botox even though many plastic surgeons claim the opposite.
4. Rhinoplasty
Rhinoplasty is the plastic surgery procedure which is done to alter the appearance of the nose. Rhinoplasty can be done for both aesthetic and medical reasons depending on the necessary procedure. For instance, it can be performed to enhance breathing due to a medical reason or to change the shape of the nose for aesthetic reasons, or both can be done. Rhinoplasty can be done to change the shape of the bone, the tip, or the skin of the nose. Rhinoplasty is another big plastic surgery procedure that requires the patients to find the trustworthy and correct clinic to get the procedure.
Rhinoplasty is another rumored Kourtney Kardashian plastic surgery procedure that is assumed to be done to look so natural that it does not make her look drastically different but makes her nose look slightly slimmed down, straighter and smaller. In her older pictures compared to newer pictures, her nose looks slightly different. She denies getting rhinoplasty as well even though many plastic surgeons claim otherwise is the reality.
Kourtney Kardashian plastic surgery has been a topic of question as many of the members of her family has gotten plastic surgery done. Due to that, people expect her to have at least some plastic surgery on her face and body.Kourtney Kardashian plastic surgery procedures are rumored to be more than breast augmentation even though she rejects getting any.It is crucial to find a trustworthy clinic before one gets these proceduresto not regret their decisions. Clinics like Milano Clinic care about the well-being of their patients and aims to give the looks the patients have been wishing for. Finding the right clinic will not only ensure the patients achieve the looks they wish for but also achieve their goals without putting their health at risk.
You can read our previous article from https://www.milanoklinik.com/en/how-to-get-rid-of-edema-after-plastic-surgery/.